Meet Kaleb Canales: The NBA's First Ever Mexican American Head Coach
"To be the first Mexican-American head coach, it is a blessing, a privilege, an honor, but, more importantly, it's a big-time responsibility."
Kaleb Canales went from unpaid intern to head coach, breaking barriers and opening the door for Latino coaches.
"My biggest role models are my parents. Their hard work, dedication, having two jobs, no excuse attitude, stays with us."
Kaleb Canales was born in Laredo, Texas, just across the Rio Grande from Nuevo Laredo, Mexico, where his father Victor grew up.
Like the majority of latinoamericanos, Kaleb's dad is a fútbol fan. For all the non-Spanish speakers: that's soccer.
But, papá Victor isn't just a fan, he was a serious player, who only moved to el norte after realizing he wasn't going to make it to the professional leagues.
Then came Kaleb...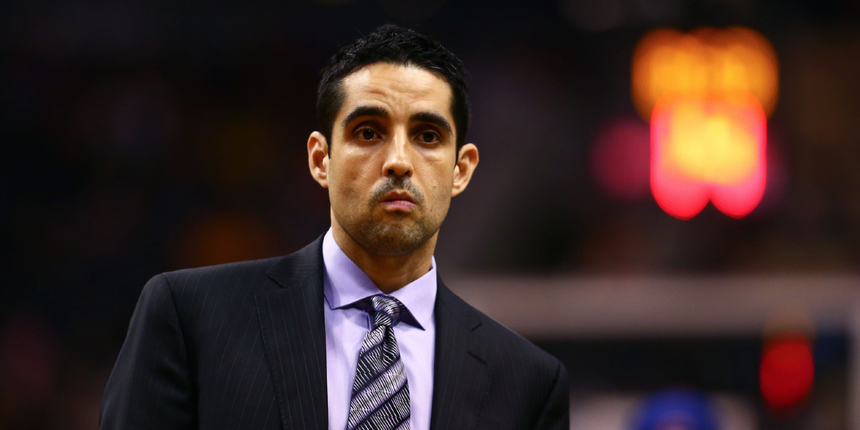 "When I was little, my dad was a soccer coach," Kaleb tells ESPN in Spanish. "The story is that one day he took me to the field to play, passed me the ball and I picked it up with my hands. It was at that moment my dad said to me, 'No, tu no vas a jugar fútbol'." You're not going to play soccer.
"I fell in love with basketball and here I am."
But it wasn't as easy a journey as that.
Kaleb started out coaching high school basketball.
His work at United High School of Laredo impressed his alma mater, UT Arlington. The university offered him a coaching position, and, after two years of high school basquet, Kaleb made the (huge) jump to a Division I college team.
Few coaches aspire higher. The NBA was a pipe dream, especially for a Mexican kid from Texas. Although Latinos are major basketball fans, we're still underrepresented in the sport, both on and off the court.
"Somebody said, 'If no one is laughing at your dreams, you're not dreaming big enough. And I think that's very important," Kaleb says, speaking about his foundation, Assist 13, which offers basketball camps to support and empower the kids of Laredo and south Texas.
For Assistant Coach Kaleb Canales, being the first Mexican-American NBA coach has been an honor. Get to know a little bit more about coach ahead of our Noche Latina celebration ???? #NuevaYork pic.twitter.com/m36DZlFvAN

— NEW YORK KNICKS (@nyknicks) March 24, 2019
"One of the things we preach to the kids every summer is to dream. Not only to dream, but to dream big."
In 2004, Kaleb was dreaming big.
While still coaching at UT Arlington, he applied to multiple internships with the Miami Heat, reports the Daily Chela. He was denied time and time again.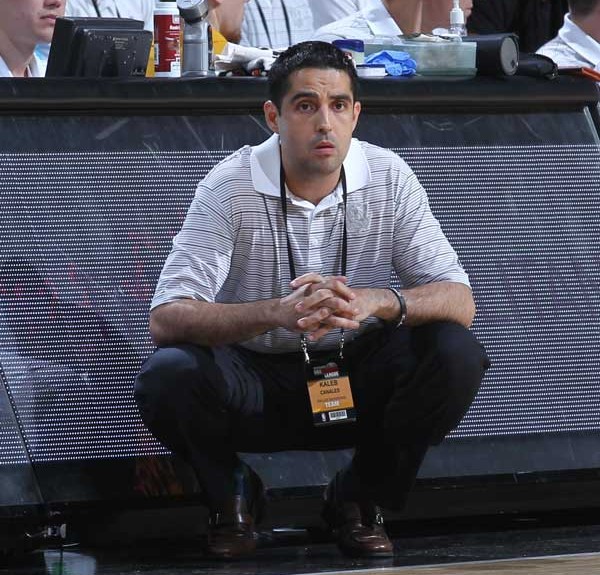 Finally, Kaleb landed an unpaid internship with the Portland Trail Blazers. A year later, he was hired as the team's video coordinator.
Kaleb put in the time, working his way from video coordinator to part-time assistant coach in 2008.
"My rookie year I caught him sleeping on the couch," all-star guard Brandon Roy told the Daily Chela. "I was like, 'You didn't go home last night?' And he's like, 'Naw.' He's definitely like the hardest working dude."
The next year Kaleb was promoted to full-time assistant coach, and the year after that he served as the head coach for the Trail Blazer's summer league. He was making big strides.
Then, on March 15, 2012, Kaleb made NBA history, becoming not only the youngest active head coach of all time, but the first-ever Mexican American head coach in the league.
Although Kaleb only coached the remainder of the Trail Blazers' '12 season after head coach Nate McMillan was fired, his achievement resonated throughout the Latino community, and opened doors for the Latino coaches who have come after, like Charlotte Hornets head coach James Borrego, the NBA's first full-time Latino coach.
Kaleb says his biggest role models are his parents.
"I think, until you get older. The hard work, the dedication, the having two jobs, the no excuse attitude, stays with us as we grow older and, obviously, that's what we try to give to our kids," speaking not only about his own kids, but the hundreds he connects with through his foundation, Assist 13.
"To be the first Mexican-American head coach, it is a blessing, a privilege, an honor, but, more importantly, it's a big-time responsibility," says Kaleb, who now coaches for the New York Knicks.
"We have to show kids that they can dream," he tells ESPN.
"That, one day, they can get here too."
And, in case you were wondering, yes, Kaleb watches fútbol. His team? Los Pumas de la UNAM.
Olivia Cristina Delgado
olivia@wearelatinlive.com