At 80, This Abuela Recorded Her First Album. She Just Received Her 2nd Latin Grammy Nomination.
She may have gotten a late start in her music career, but 82-year-old Doña Irma Silva, la abuela de la musica regional, is making up for lost time.
It all started seventy years ago, with a little girl and a radio in General Terán, Nuevo Leon, Mexico.
"I loved it. I listened to the songs on the radio and I wanted to go and sing like those people," says 82-year-old Doña Irma Silva in Spanish.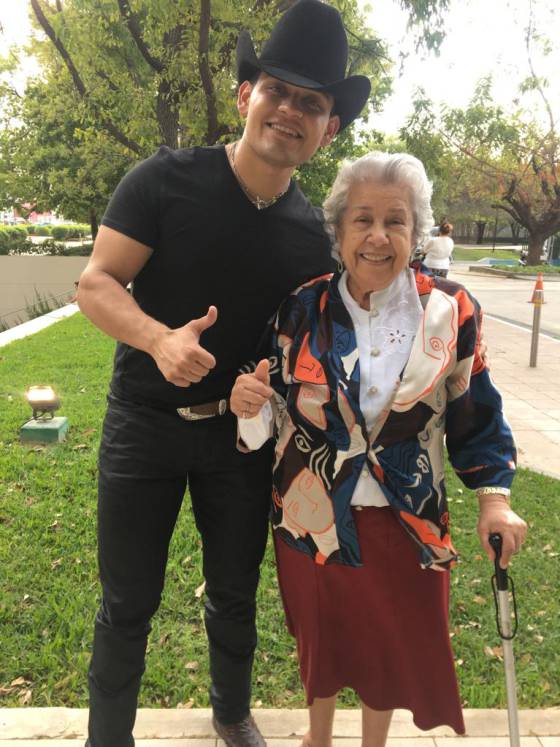 Doña Irma and her grandson Jorge
Music is in Doña Irma's blood; her uncle was one of the founding members of el grupo norteño Los Alegres de Terán.
But, Irma's father wouldn't allow her to pursue music professionally. "It was frowned upon for a woman to be doing that." If this is starting to sound a little bit like the plot of Coco, you're not wrong.
So, Doña Irma became a seamstress and dedicated herself to raising a family. She continued to sing, but privately, at family gatherings.
That is, until two years ago, when her grandson, Jorge Loayzat, decided to give la Abuela Irma a special 80th birthday gift.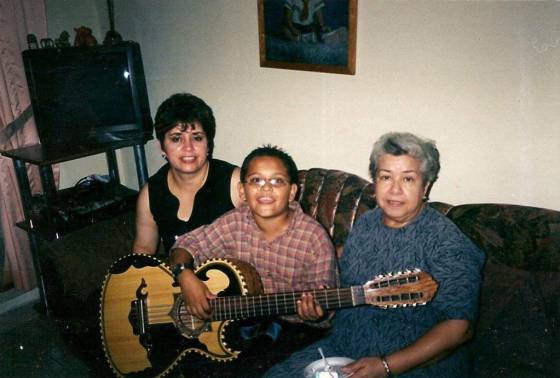 A young Jorge with his mother and grandmother
Jorge had achieved what his grandmother had only been able to dream about, becoming a musician and singer with his own norteño band, Buyuchek.
So, Jorge decided to help make his grandmother's childhood dream a reality.
Jorge with la abuela Irma in the recording studio
Jorge filmed his pink-suited Abuela Irma, cane in hand, singing the classic La Pajarera alongside his band. He posted the video to Buyuchek's official Facebook page and called it #ElRetoDeLaAbuela - #TheGrandmaChallenge.
"If this video gets 100,000 views, I'll record an album with my grandmother," Jorge challenged his fans.
The video got almost 300,000 views.
Doña Irma has been making up for lost time ever since.
In just two years, la abuela de la musica regional has already recorded two albums with Buyuchek, Las Canciones de la Abuela and De Terán Para El Mundo.
And she's been knocking it out of the park from jump.
Doña Irma's first album, Las Canciones de la Abuela, is a collection of traditional norteño songs.
"They are the songs my grandmother has always sung," says Jorge in Spanish. "We wanted it to be very natural, we didn't want her to have to learn something new. We wanted it to come from the heart."
The album's first single, La Pajarera, got over 2 million views on Youtube after it was posted in early January of 2019.
A contract with Universal followed soon after.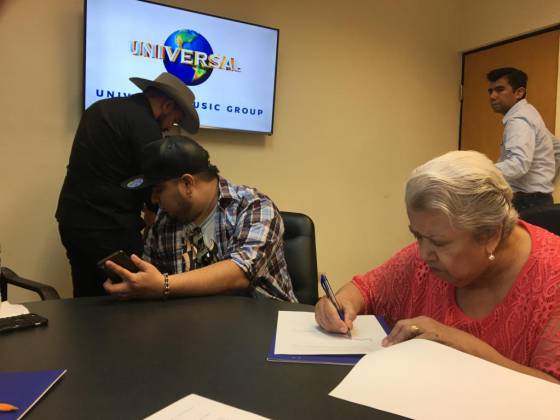 Abuela Irma signing the contract with Universal

Then came the Latin Grammy nomination for "Best Norteño Album" of the year. They shared the category with Intocable, La Maquinaria Norteña, and Calibre 50.
"You know, I don't get nervous, I'm very happy to be here," la abuela told the LA Times as she sat in her wheelchair at the MGM Hotel in Las Vegas the day before the ceremony.
"They asked me who I'd like to do a duet with and I said Vicente Fernandez...they say he's going to be here," she added calmly. "Everything is beautiful here, I didn't expect all of this."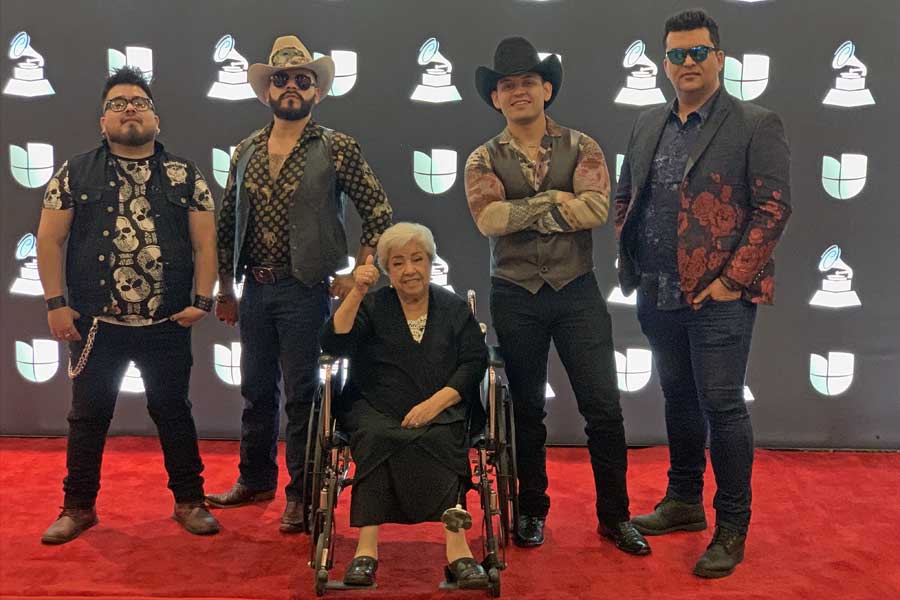 "My grandma is fascinated with all the hotel facilities, the activities, the interviews," added Jorge.
Doña Irma and Buyuchek may have lost the Grammy to Intocable last year, but they've got another shot to bring home the golden gramaphone in 2020.
The abue-nieto team-up is two for two, with another Latin Grammy nomination for their second album, De Terán Para El Mundo, which features some of the most famous songs from Mexico's northeastern region, like "Nueve Días", "Ojitos Verdes", "Mil Noches", "Moneda Sin Valor" and "Te Vas Ángel Mío."
"We didn't expect this," says Jorge in a video he posted to Instagram, standing outside in his grandmother's rancho in General Terán, goats over one shoulder, mud under his feet.
He talks about his family's love for the land, a love that inspired De Terán Para El Mundo.
"This album was made with great sacrifice, here, in the land that saw the birth of my grandmother."
When Jorge surprises la abuela with the news of their second Grammy nomination in as many albums, she seems unimpressed. She just wants to get back to sleep.
Doña Irma doesn't sing for fame or accolades, she sings for her grandson, for her land, for her people, and for the joy of it.
Felicidades Doña Irma, y suerte.
You can listen to on YouTube or Spotify, or download the album HERE.
The 2020 Latin Grammys will be broadcast live on November 19 on Univision.
IG: @oliviacristinadelgado
Twitter: @olivdelgadodice