Selena's "Amor Prohibido" Named One Of The Greatest Albums Of All Time
Rolling Stone has named Selena's Amor Prohibido one of the best albums of all time.
Amor Prohibido, Selena's fourth album, is widely considered her "crowning achievement."
Rolling Stone, for one, has made it official, naming the queen of Tejano music's penultimate album to their list of Greatest Albums of All Time.
"Tejana star Selena Quintanilla-Pérez may not have been long for this world (she died when she was just 23), but she remains one of America's most beloved singer-songwriters. At the heart of her regional Mexican masterwork, Amor Prohibido, is a universal, glittering pop core. The techno-cumbia title track tells the real-life story of her grandparents, who fell in love across class lines. It's a Latina fairy tale, if ever there was one. Amor Prohibido, meaning "forbidden love," became one of the bestselling Latin albums of all time."
Not only did it hold the #1 spot on the Regional Mexican albums chart for 97 weeks straight, a record that has yet to be beaten, it remained at the top of the Billboard Latin Albums chart for 98 weeks, crossing cultural boundaries and thrusting regional Mexican music into the mainstream for the first time.
This onehttps://t.co/LmoNRvfyl4

— "That ain't enough for me." - Keke Palmer (@Twinkee542) September 24, 2020
But, Amor Prohibido, wasn't just a (monumentally) popular hit, the Tejano cumbia album was critically-acclaimed, blending diverse music styles like ranchera and hip hop in a way that remained innovative well into the 21st century.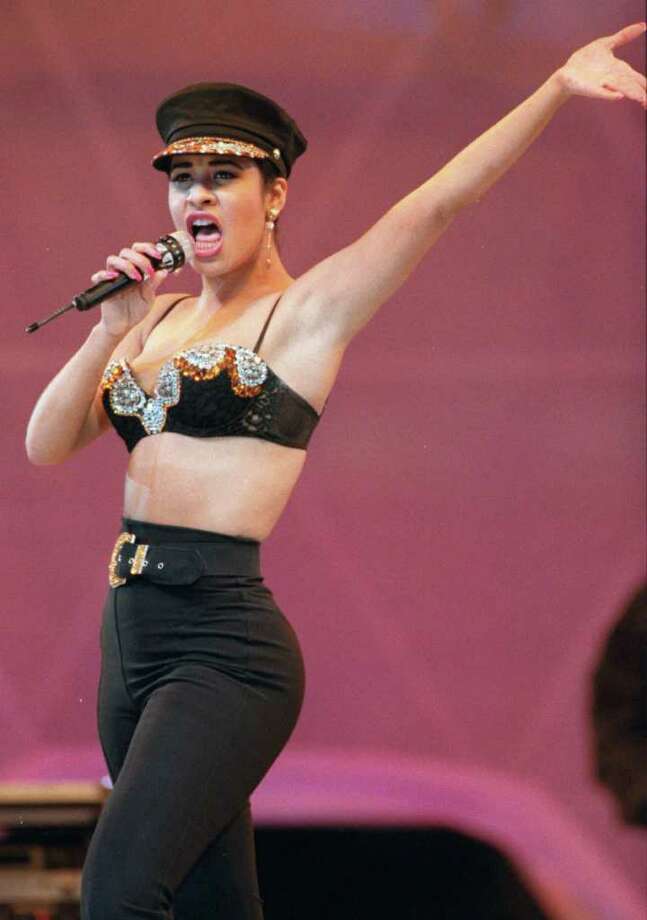 Selena, live at the Astrodome for the Amor Prohibido Tour
The album is known for its "love songs," but the tracks are really about struggling with and overcoming dysfunctional, volatile relationships, unrequited love, infidelity, and class division.
It's title track, inspired by her own grandparents' cross-class "forbidden love" story, was the #1 U.S. Latin single of 1994. "No Me Queda Más" took the #1 spot in '95, with "Bidi Bidi Bom Bom" and "Fotos y Recuerdos" close behind.
The Amor Prohibido tour broke Houston Astrodome attendance records and established Selena as one of the biggest Latin touring artists of the era.
On March 31, 1995, Selena was killed by her former manager Yolanda Saldivar. She was just 23 years old.
Within weeks Amor Prohibido was certified platinum. It is the second-highest certified Latin Album in the U.S., topped only by Selena's own posthumously released Dreaming Of You.
It is still considered one of the most essential and groundbreaking recordings ever made by a Latina artist.
La Reina lives on.
Reporting by Olivia Cristina Delgado
IG: @oliviacristinadelgado
Twitter: @olivdelgadodice
Support our independent reporting HERE.