9-year-old Sylvia Mendez Fought "No Mexicans Allowed" - And Won
The Civil Rights Hero you've never heard of
In 1947, Sylvia Mendez testified in court to prove that Mexicans were just as smart as white people. Thanks to Silvia and her family, California became the first state to desegregate schools, setting the precedent to desegregate all schools across the U.S.
It was World War II and the Mendez family had just moved to Westminister, CA, to rent and work a farm of their own.
Like many parents today, Gonzalo Mendez and his wife Felicitas worked long hours as farm laborers to give their three children the opportunities that they never had.
"WHITES ONLY - NO MEXICANS"
But when Gonzalo and Felicitas tried to enroll their children Silvia, Gonzalo Jr., and Jerome in the local school, they were told that the school was for "whites only", "no Mexicans allowed." Their children, like all Latino students across the country at the time, would have to go to the "Mexican school": two shacks on a dirt lot.
Gonzalo and Felicitas Mendez
They went to court, not just for their own children, but for all Latino students.
Gonzalo refused to accept this. He went to the principal, the superintendent, finally the school board. They all said no.
But, Gonzalo wouldn't go away quietly.
He rallied four other Mexican-American families: Gomez, Palomino, Estrada, and Ramirez. Together, they went to court, not just for their own children, but for all the Latino children in Orange County.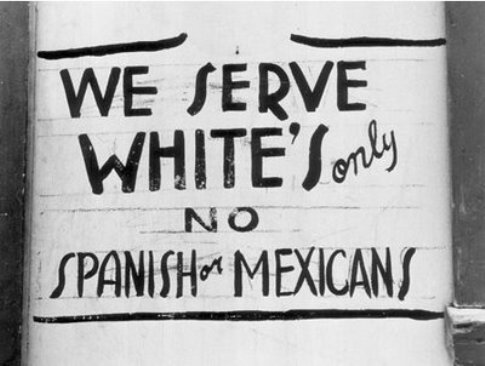 The school board argued that Mexicans were inferior to whites and couldn't speak English; Silvia proved them wrong.
School superintendent James Kent argued:
"People of Mexican descent are intellectually, culturally, and morally inferior to European Americans."
So, eight-year-old Sylvia Mendez took the stand and, in perfect English, demonstrated to the court that Latino Americans were just as smart and capable as white students.
Felicitas, Sylvia, Gonzalo Jr., and Jerome
The judge ruled in favor of Mendez and the other Mexican-American families - SEPARATE IS

NOT

EQUAL.
On February 18, 1946, Judge Paul J. McCormick ruled in favor of the Mendez family and their fellow plaintiffs, arguing that segregation was unconstitutional, creating inequality where there was none. Separate is not equal.
The same argument would later be used in Brown v. Board of Education, the Supreme Court case that ended segregation across America.
Unwilling to give up their "whites only" schools, the school board appealed the decision, but, this time the Mexican-American families had the support of the NAACP, League of United Latin American Citizens, Japanese American Citizen's League, and the World Jewish Congress.
On April 14th, 1947, they won AGAIN.
California became the first state to outlaw segregation.
After the ruling was upheld, then-Governor Earl Warren moved to desegregate not just all public schools, but all public spaces in California.
Thanks to the perseverance of Gonzalo, Felicitas, and the other Mexican-American families, as well as the bravery of young Silvia, California became the first state to desegregate schools.
Their case created the precendent that would be used seven years later in Brown v Board of Education, the landmark Supreme Court case that desegregated all schools across the nation.
Sylvia and her mother, Felicitas, in 1996
Sylvia went on to become a nurse, adopting and raising two girls while working in the medical field for over 30 years. Throughout er life, she continued to be an advocate for education and equal rights.
Silvia met with President George W. Bush and was awarded the Medal of Freedom by President Barack Obama.
Two schools in California have been named after Gonzalo and Felicita Mendez, the "Gonzalo and Felicitas Mendez Fundamental Intermediate School" in Santa Ana, and the "Felicitas and Gonzalo Mendez Learning Center" in Boyle Heights.
The families who banded together to go up against the school board proved that el pueblo unido, jamas sera vencido: the people united can never be defeated.
These working class families were willing to put up a fight, even when the odds were against them and challenging authority made their lives very difficult. They understood that, to make change, we can't afford to back down.
Reporting by Olivia Cristina Delgado
IG: @oliviacristinadelgado
Twitter: @olivdelgadodice