HISTORIC: Latinos Are Now The Largest Share Of Non-White Voters In The Nation
It's time for the "sleeping giant" to wake up.
According to Pew, a record 32 million Latinos are projected to be eligible to vote in the 2020 presidential elections, making Latinos the largest non-white voting block in the nation for the first time in history.
Across political parties, Latino voters want higher minimum wage, health care for all, stricter gun laws, and a pathway to citizenship. If we show up, we can make it all happen. If we show up, we can shape the nation.
Pew reports that a projected 32 million Latinos will be eligible to vote in 2020, that's more than the nation's 30 million eligible Black voters, and 11 million Asian American voters.
Two big shifts we are projecting for the 2020 electorate:
•More Hispanic than black eligible voters
•Baby Boomers and older generations to account for fewer than 4-in-10 eligible voters vs. nearly 7-in-10 in 2000https://t.co/LWa9lKe6oS pic.twitter.com/vgM7hJJ0Ag

— PewResearch Hispanic (@PewHispanic) January 30, 2019
California has the highest number of eligible Latino voters, almost 8 million, followed by Texas with 5.6 million, Florida with 3 million, and New York with 2 million, while New Mexico has the highest percentage, with eligible Latino voters making up 42% of its electorate.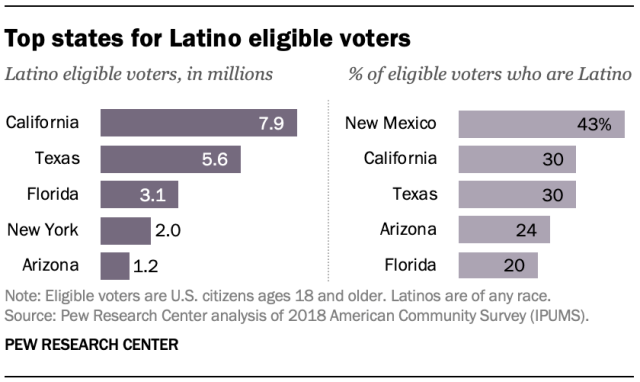 According to Pew, 62% of Latinos lean Democrat, while 34% lean Republican.
Across party affiliations, Latinos are concerned with minimum wage, health care, gun laws, and immigration.
Pew reports that 79% of Latinos voters are in favor of raising minimum wage, 71% believe it is the government's responsibility to ensure health care coverage for all Americans, and 68% believe gun laws should be stricter.
Although there is a partisan gap, 83% believe a pathway to citizenship for undocumented immigrants is important, making it the top immigration policy goal for Latinos.
Ultimately, though, the key word is eligible.
We have the ability to shape the election, and the nation, but only if we show up.
We've been called the "sleeping giant" for years.
It's time to wake up.