Latina Soldier Vanishes After Being Sexually Harassed. Her Family Pleads For Help.
Vanessa Guillen confided to her mother that her sergeant was stalking and sexually harassing her. Then she vanished.
Vanessa's family is asking for the public's help to hold the army accountable, find out what really happened, and bring Vanessa home.
It's been almost two months since 20-year-old Private First Class Vanessa Guillen disappeared. She was last seen near her barracks, in the parking lot of her headquarters at Fort Hood, Texas.
Vanessa's keys, her identification card, and wallet were all later found in an armory room where she had been working earlier that day.
The circumstances of her disappearance are still a mystery, even as multiple military and civilian law enforcement agencies work the case. According to a statement by Fort Hood Press Center, the U.S. Army Criminal Investigation Command is leading the investigation.
But, Vanessa's mother, Gloria Guillen, says she does not trust the military investigators and wants the case handed over "fully to the FBI."
"If you know something, say something," begins a post on the Facebook page Vanessa's family created to raise awareness about her disappearance.
"How did she disappear on base? She did not just vanish! How can a military base with 40,000 soldiers, not have seen a thing?" asks the Facebook post.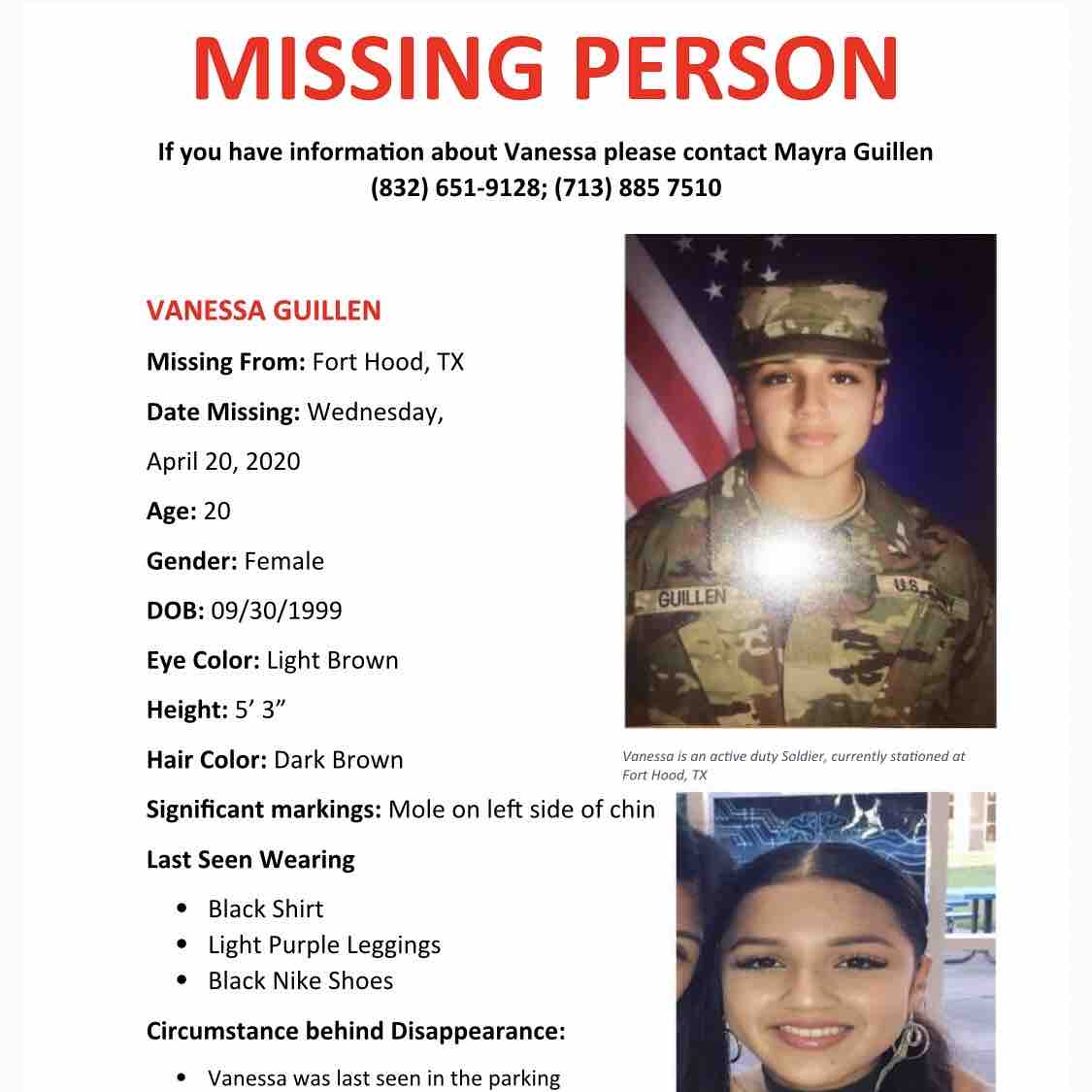 Gloria says Vanessa confided in her that she felt unsafe at Fort Hood. According to the website her family set up, one of Vanessa's sergeants at the base had been sexually harassing her, and following her when she went jogging. Recently the family revealed that another had followed her into the showers while she was naked.
"[Vanessa] said it was stalking and verbal harassment," Vanessa's sister Mayra translated for her mother, Gloria, who only speaks Spanish.
Gloria wanted to report the harassment, but Vanessa didn't want to get in trouble. She knew others who had reported harassment and not been believed.
Studies have found that anywhere between 5-25 percent of women in the military have been sexually assaulted, and 60-80 percent have experienced sexual harassment. Exact numbers are difficult to gauge because the majority of incidents go unreported.
Those that choose to report, often face retaliation.
Vanessa refused to give Gloria the sergeants' names, saying she would take care of it herself. A few weeks later, Vanessa disappeared.
On the website, Vanessa's story is told in first person:
Three weeks before I disappeared, my mom asked me why I seemed different. My mom knows me better than anyone else. She noticed I had become withdrawn and that I wasn't able to sleep like I used to.

I finally told my mom that I was being sexually harassed by one of my sergeants on Fort Hood. My mom tried tried to convince me to give her the name of the person who was harassing me, but I didn't want to get in trouble. My mom told me that she would report it for me, but I told her that I knew of other female soldiers that had reported sexual harassment and that the US Army didn't believe them. I told my mom how the same sergeant that sexually harassed me would follow me whenever I would run and exercise and how uncomfortable it made me feel. My mom told me she would put a stop to it, but I told her I would take care of it myself. I felt I could put a stop to it myself. All I had to do was do something, say something. I was ready to take care of it.

But I have been missing ever since. I didn't get a chance to give my mom a name. I didn't get a chance to report it to anyone.

Please don't forget about me.
Vanessa's sister Mayra visited her twice at Fort Hood before Vanessa disappeared.
Before being allowed on base, Mayra had to be fingerprinted, undergo a background check, and pass through a security gate where her car was inspected for additional passengers.
It seems extremely unlikely that any non-military personnel could get onto the base unnoticed.
In a statement, a spokesperson for Fort Hood said that 500 soldiers have searched the base for Vanessa. If they found anything, the Army CID has yet to share those findings with Vanessa's family.
Vanessa is described as 5'3" tall and weighing 126 pounds. She has dark brown hair, brown eyes, a mole on the left side of her chin, and three tattoos: a cross with a flower and a flower, both on her left arm, and a mountain on her upper left shoulder.
She was last seen wearing black Nike shoes, a black Nike shirt, and purple leggings.
Her family has created a GoFundMe to help hire a private investigator, as well as a petition to "Hold The Army Accountable."
If you have any information about Vanessa Guillen, please contact the family directly. Contact information can be found at any of the links above or below.
Website: https://findvanessaguillen.com/
Facebook: https://www.facebook.com/findvanessaguillen
GoFundMe: https://bit.ly/3dTJNah
Petition: https://bit.ly/2zmz9d8