Rain Or Shine, This 80-year-old Man Walks Every Single Day In Support Of Immigrants And Their Families
"I will never stop walking until I'm physically unable to walk," said Dornan. "And then I'll buy a wheelchair."
Despite severe pain from his spinal condition, 80-year-old Alan Dornan has been walking out every single day for over 600 days to raise awareness and show his support for immigrants.
Alan Dornan celebrated his 80th birthday by walking, as he does every day, in support of immigrants.
Dornan has been walking around his community every single day for almost two years, carrying a sign to raise awareness and show his support for immigrants and their families.
He originally started walking in support of DREAMERs, but, now:
"I walk for...all the immigrants in America, all the people at our borders, all the parents and children who are being separated from one another that they should have a free place — not put together in cages or in prisons — but together on the soil of this free Earth...and I'll walk until the day comes that I'm physically unable to walk."
"These people have a dream," says Dornan, himself a son of Scottish and Canadian immigrants. "And their dream is not going to be realized unless somehow the false perception of [immigrants] is changed. That's why I'm doing this."
Although he recently led a group of 50 in a Rally For Refugee Children walk, Dornan usually walks alone, carrying his sign and a small stool.
Dornan used to walk a 2 mile circuit, but these days his spinal stenosis and scoliosis have gotten so bad that he only walks as far as he can before setting up his stool on a corner where he sits with his sign. Sometimes passersby honk in approval.
Unfortunately, not all the reactions are positive. During the Rally For Refugee Children walk, a man drove by shouting "Trump! Trump! Trump!" over and over again.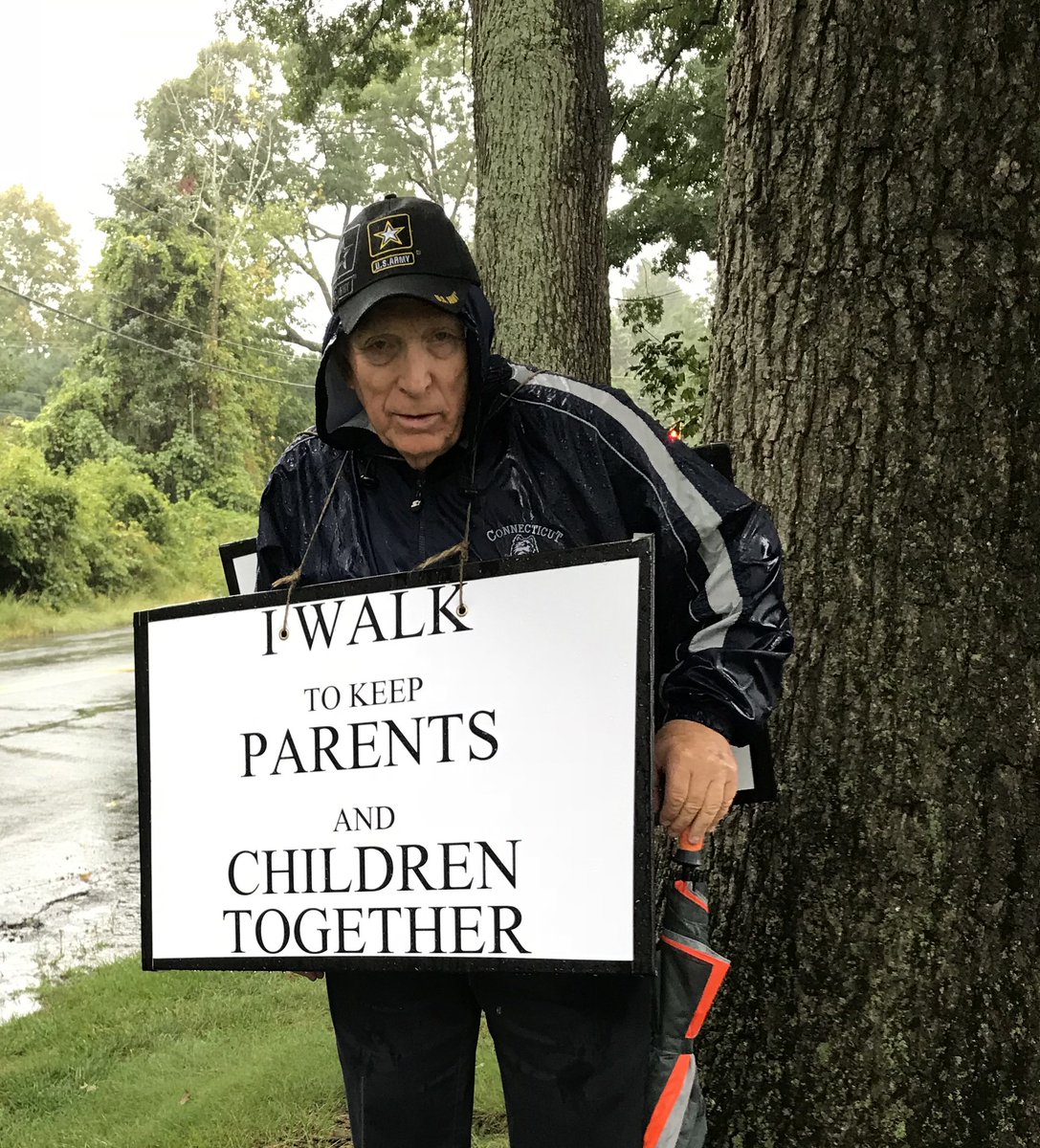 But Dornan doesn't let his pain or the negative reactions - or even getting arrested by homeland security - get him down.
This elderly man is Alan Dornan from Somerville, Massachusetts walks miles every single day with a sign that says "I walk for dreamers and all immigrants.

He was just taken into custody by homeland security officers for civil disobedience.

KNOW HIS NAME

RETWEET THIS pic.twitter.com/p2jccpaeOB

— StanceGrounded (@_SJPeace_) June 28, 2019
He's received thousands of messages from immigrants and their families, sharing their stories - and he can't let them down.
"They're in fear all the time. They say they fear that ICE agents are going to come pick them up — parents fear for their children to leave the house. These are the messages I get. I cannot turn back."
To all those who have sent messages, Dornan writes: "You have given me a reason to be alive!"
And Dornan has a mantra he repeats to himself, a motto from Star Wars that his son Aaron used to say when he was struggling in school: "Do. Or do not. There is no try."
"When I started walking, that motto became so meaningful to me," says Dornan. "There is no try. I'm not trying to do something. It's a matter of do it or don't do it. And the answer is: I do."
Aaron died in a car accident 20 years ago, just after his high school graduation.
"He was a good boy," Dornan says. "He was a good young man. And I know that he'd be proud of me, I'm positive of that."