Immigrant Mom and Daughter Graduate From The Same University On The Same Day
Se pusieron las pilas
"It's never too late if you dream about something. You just have to hold that dream tight."
Last week, 46-year-old Sandra Murillo and her daughter, 25-year-old Katherinn Lopez-Murillo, both graduated with their bachelor's degrees from William Paterson University in Wayne, New Jersey, reports NBC. Neither had an easy journey to the stage.
Sandra immigrated from Colombia in 1996. She was freshly divorced and had to leave her daughter behind, arriving in the states with no English and no family to help her. But she had a goal: to get educated college-educated.
Sandra learned English in just two years, working several jobs to support herself. She then trained and worked as a medical assistant and was eventually able to reunite with Katherinn in 2006.
The single-mom continued to pursue her education at a local community college, taking care to impress upon Katherinn the importance of education.
"Unless I was sick, or something terrible was happening, I was going to school," Katherinn tells NBC. "She told me if you don't educate yourself, life is going to be so much harder for you."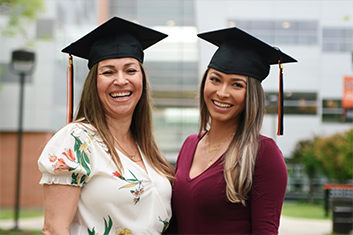 Initially, though, Katherinn wasn't onboard, telling her mom, "I don't think school is for me." But, after working as a cosmetologist, she was inspired by her mother's continued dedication to getting her degree and decided to follow in her footsteps.
Now, both las mujeres Murillo have their bachelor's, Sandra in Public Health, and Katherinn in Criminal Justice. They are part of the 32% of South American immigrants who earn a bachelor's degree or higher after arriving in the U.S.
In a university press release, Sandra said:
"I thank God every day for giving me the strength, and for giving me this wonderful daughter who was there with me through the hard times, and for making this more special because she's graduating with me."

Whatever you have in mind, hold your dreams tight and work for it. That's what I told my daughter. Don't ever stop dreaming!"