UATEKE FEST Featuring: Los Pericos // Berkeley
517 views
The UC Theatre Taube Family Music Hall

2036 University Ave, Berkeley, CA 94704, Estados Unidos

View Map
The UC Theatre Taube Family Music Hall

2036 University Ave, Berkeley, CA 94704, Estados Unidos

View Map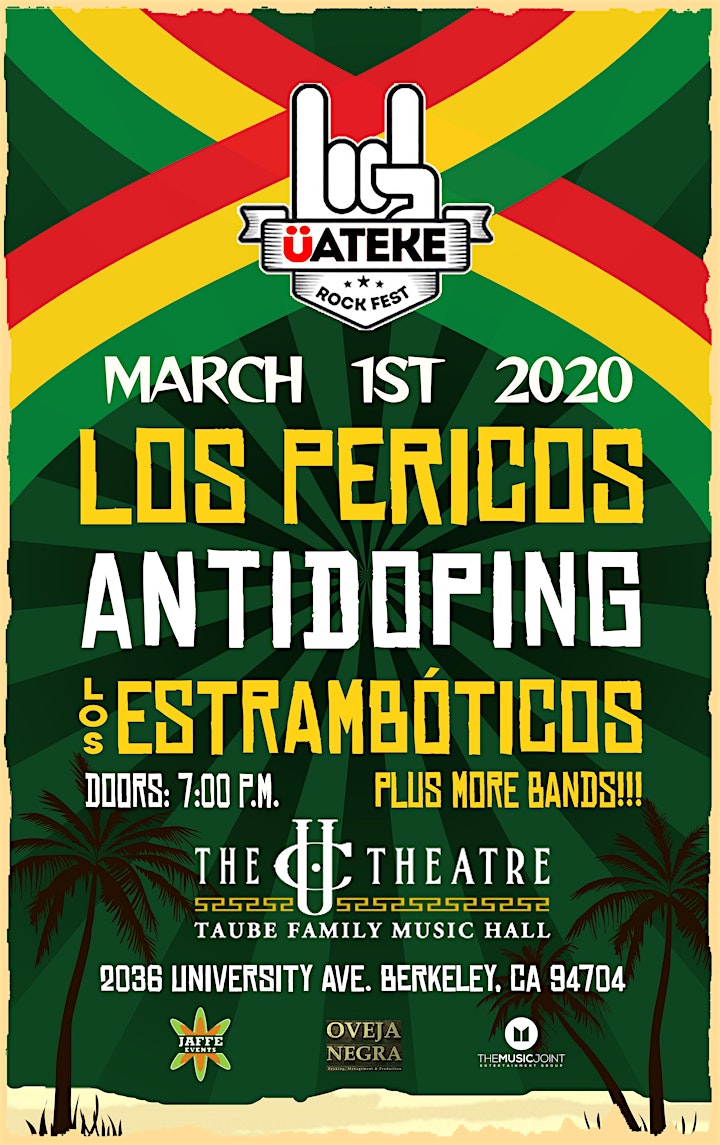 Facebook Post Los Pericos:
Facebook Post Los Estramboticos:
Facebook Post Antidoping:
Youtube Video Los Pericos:
Youtube Video Los Estramboticos
Youtube Video Antidoping
Spotify Playlist Los Pericos:
Spotify Playlist Los Estramboticos:
Spotify Playlist Antidoping:
Bio Los Pericos:
Los Pericos is an Argentine band formed in 1987. The band has enjoyed international success, especially throughout South America. In 2006, the band received some notable exposure for North American audiences when featured on an episode of Anthony Bourdain's No Reservations. The band was also featured in the 2000 documentary, Botín de guerra (Spoils of war).
Bio Los Estramboticos:
Mexican Latin ska band los Estramboticos formed in the early 1990s. Led by singer Arturo Ruedas, also known as la Moska, the group's breakthrough came with the release of an album called Piel de Banqueta. Their follow-up was 1999's Objeto Extraviado, which was produced by ex-Caifanes guitarist Alejandro Marcovich and presented live at Mexico City's Hard Rock Live, along with la Gusana Ciega and la Matatena.
Bio Antidoping:
Antidoping is a Mexican reggae band formed in the summer of 1992 in Mexico City. They fuse roots reggae, ska and Caribbean rhythms with an urban flavour.
Antidoping has been an active member of the Razteca reggae movement in Mexico, sharing the stage with many different artists, including Israel Vibrations, Alpha Blondy the Skatalies and many other important reggae and ska bands.
*Official Rules: LEGAL RULES: Must be 21 years of age and older to qualify and win. Participants must reside in CA. and be able to provide government issued identification. Participants must share "UATEKE FEST Featuring: Los Pericos // Berkeley" and like "LATINLIVE'S" page on Facebook and between 2.10.20 12:00 PM PST and 2.25.20 12pm PST for your chance to win. Six winners will be randomly selected on 2.25.20. Sweepstakes starts at 12:00 PM PST 2.10.20 and ends at 12pm PST 2.25.20. Two entries per participant. Multiple entries will not increase your chances of winning. Void where prohibited. No purchase necessary. LATINLIVE will be giving away 6 Pair GA. Winners must provide their own transportation. By entering to win via sharing in Facebook, Instagram or Disqus, contestants agree to share this contest, winners agree to having their names posted on wearelatinlive.com & Social Media for the purposes of content and marketing. Chance of winning is 6:1,000,000. Winners will be notified via text, email or social media on or before 2.26.20. If the winners does not respond within two hours after they are notified, they will forfeit their prize and another winner may be selected. Prizes have no cash value. If the event is cancelled by the event producer, sweepstakes becomes null and void. Artists may change without prior notice. Contestants and winners release LATINLIVE, The Promoter, The Venue, performing artists and anyone associated with this event of liability in connection with the event "UATEKE FEST Featuring: Los Pericos // Berkeley" promotion. Contestants and winners release LATINLIVE, venue, management, and performing artists of liability in connection with the event "UATEKE FEST Featuring: Los Pericos // Berkeley". All rights reserved 2017, LatinLife Inc. LATINLIVE is a trademark of LatinLife Inc.