ESL Teacher Takes In Student's Newborn Baby Brother While Parents Recover From Covid-19
"I did not think twice about it...it did not even come across my mind to not say 'yes'."
Baby Neysel was born five weeks early. With his mother in a covid coma, and his father and brother testing positive for the virus as well, teacher Luciana Machado Lira stepped up.
On the last day of March, Luciana Machado Lira, an ESL teacher in Connecticut, received a panicked phone call.
"Miss Lira, my name is Zully — I'm Junior's mom," said a woman's breathless voice. "I need your help," gasped the woman on the phone, "I'm having a hard time breathing."
"Please call my husband and help him and my son. I'm at the hospital, and I'm going to have an emergency C-section."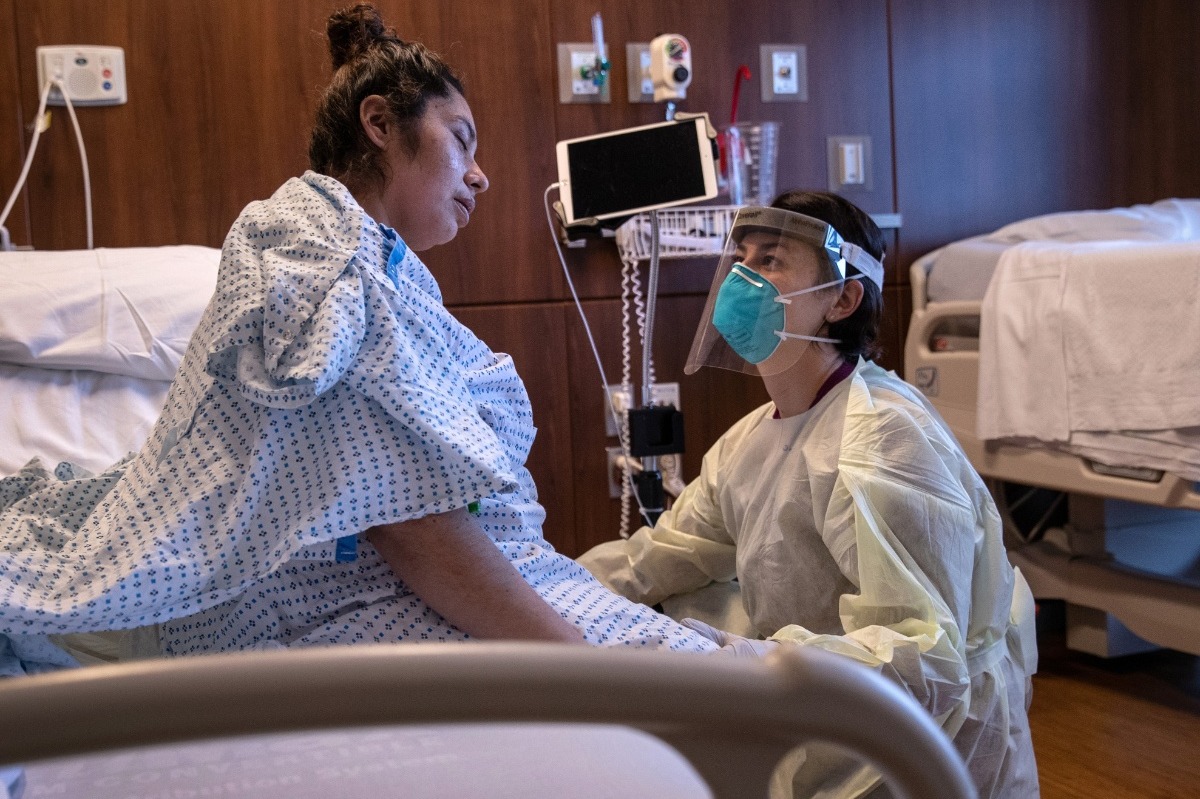 Zully in labor
Zully, a recent immigrant and the mother of one of Luciana's students, seven-year-old Junior, was in labor with her second child - and positive for covid-19.
The virus was sending her into respiratory distress, filling her lungs with fluid. She couldn't breathe.
Luciana immediately went into action.
Luciana, feeding baby Neysel
"I did not think twice about it," she told NBC News. "It did not even come across my mind to not say 'yes'."
Luciana immediately went into action, contacting Zully's husband, Marvin, who gave her permission to "communicate with medical staff and act as a go-between for the family," according to the Washington Post.
Zully's doctors went into action as well, delivering her baby, a boy they named Neysel, five weeks early.
Little Neysel was born weighing just five pounds, but he was healthy - and negative for covid-19.
Baby Neysel at Luciana's home in Stamford, CT
Zully was in critical condition, on a ventilator, in a coma.
"They didn't think she was going to make it," Luciana told the Post.
Luciana's own son, 11-year-old Christopher, had been born prematurely after his twin had died in the womb, and she herself had been in critical condition after the birth.
11-year-old Christopher holding baby Neysel
"We were miracles," she told the Post, "just like Zully and Neysel."
So Luciana reached out to Marvin.
"I know that you don't know me, and I don't know you," she told him. "But if you want, I can take the baby with me until after you are tested [for covid-19]."
"I don't want to kill my baby," Luciana told NBC that Marvin replied, sobbing. "I'm going to trust you with my baby's life."
And it's a good thing he did; both Marvin and Junior tested positive.
Father and son have been isolating at home, while Luciana and her husband and son have adjusted to a new routine in their own home.
"Neysel is a preemie, so he needs to be fed every two hours or so, and he loves to stay awake most of the night," an exhausted, still-teaching Luciana told the Post, "But I am honored that the family wanted me to help."
Luciana, her husband Alex, and son Christopher with baby Neysel
Zully, who was in a coma for three weeks, has finally woken up and is on the mend, though still too weak to walk or hold Neysel.
Zully on the mend, at home with husband Marvin and son Junior
Luciana and Neysel Facetime regularly with Marvin and Zully, and Luciana is making a scrapbook for the family, so they don't miss out on any of Neysel's important moments.
"We cried a lot together," Luciana tells NBC, "There were days we would tell each other, 'Let's pray, because that's it.'"
Marvin and Junior praying in their home
She also started a GoFundMe for the family, since both of Neysel's parents lost their restaurant jobs due to the pandemic. So far, over $42,000 have been donated.
"My hope for this family is that they'll soon have their baby home and be able to hold him in their arms," Luciana told the Post.
"When he leaves me, I will miss him a lot. But, I have a feeling that one day, he will be one of my students."