A Woman Selling Tortillas Didn't Realize She Was Using A Dildo As A Rolling Pin
When confronted by a concerned prospective customer, she insisted that it was a "vibrating rolling pin."
A woman named Peggy from San Antonio, Texas, has gone viral for ostensibly selling tortillas she rolled out using a very unorthodox, and arguably unhygenic, household item: her dildo.
Fresh tortilla and vibrating rolling pin pic.twitter.com/1ngU9jrMht

— The State Of Selling (@StateOfSelling) January 13, 2020
At first glance, the post seems pretty straightforward. "Fresh tortillas" it reads, under a picture of what looks like a disc of masa.
But, if you look closer, you'll notice that what appears to be a bright purple rolling pin off to one side has "Durex" printed at the bottom.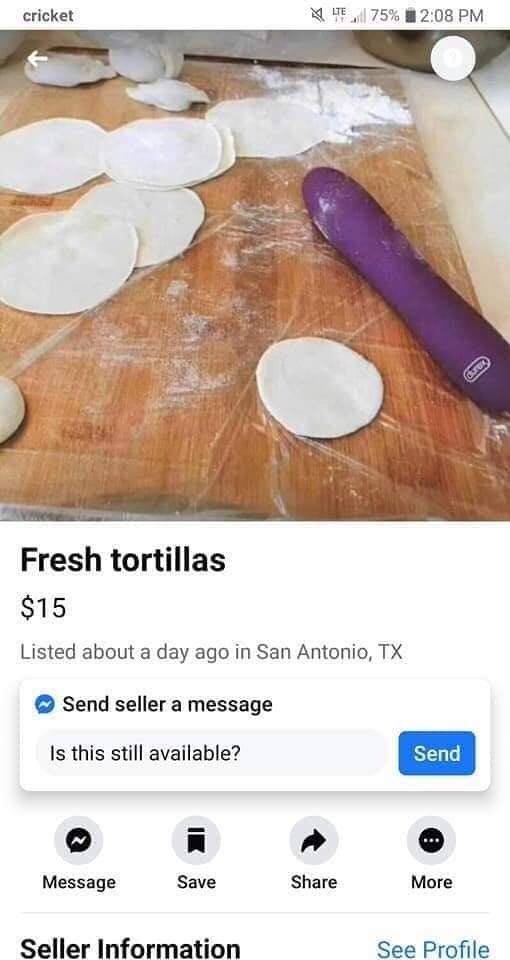 A concerned prospective customer sent Peggy a message. "U been rolling [them] with a dildo," she writes, but Peggy responds that it's a "vibrating rolling pin."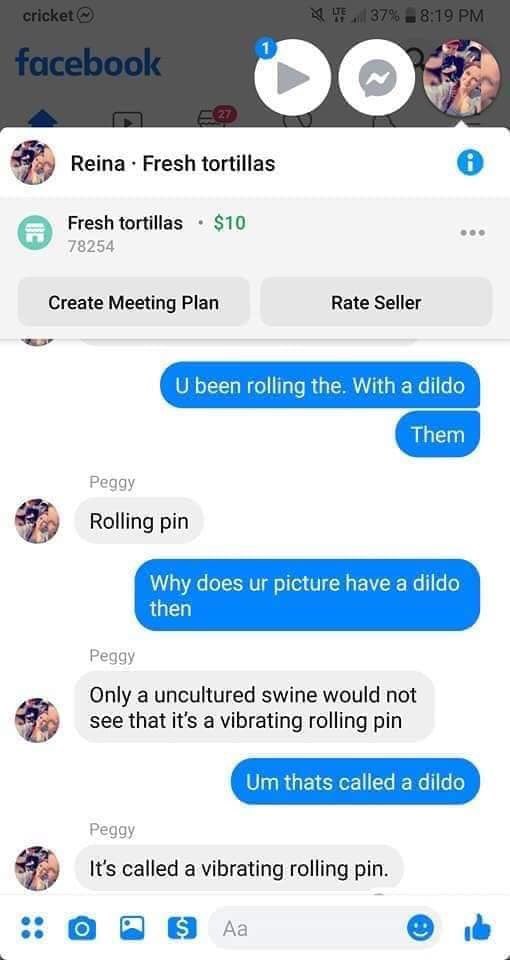 A screenshot of the post and exchange blew up on Twitter, prompting Durex to offer Peggy "a better Durex rolling pin" and "some extra goodies."
@jeepherpegger, you've been taking a lot of heat for making tortillas. We'd love to give you something special. DM us for a better Durex rolling pin…we'll even throw in some extra goodies for you…#durex pic.twitter.com/jZQhLb0Y7m

— Durex USA (@Durex_USA) January 21, 2020
Peggy claims it was all a joke, tweeting that, "finally my horrible sense of humor is recognized."
Y'all I went super viral ????????????I'm Also on daily mail and I'll be on 99.5 kiss billy Madison show Friday ???????????????? finally my horrible sense of humor is recognized ???????????? https://t.co/xaLhHVs0di

— Peggy & Zilla (@jeepherpegger) January 15, 2020
Maybe it was all just a joke - who would pay $15 for tortillas made by a gringa llamada Peggy?