Meet The Actress Playing 'Selena': Netflix Releases First Look...
Introducing Christian Serratos as Selena Quintanilla.
Netflix has released video of Walking Dead actress Christian Serratos as la Reina de Tejano.
Christian Serratos (si, Christian, not Christina) has big platforms to fill.
The half-Mexican, half-Italian actress was born Christian Marie Bernardi in Pasadena, California. Her mother is a jewelry designer of Mexican descent, while her father is a construction worker of Italian descent.
Christian started her performing career as a young, competitive figure skater, before signing with the Ford Modeling Agency at just 10 years old.
Since then, the actress/model has appeared as Suzie Crabgrass on the Nickelodeon show Ned's Declassified School Survival Guide, as Angela Weber in the Twilight Saga, and, most recently, as Rosita Espinosa on The Walking Dead.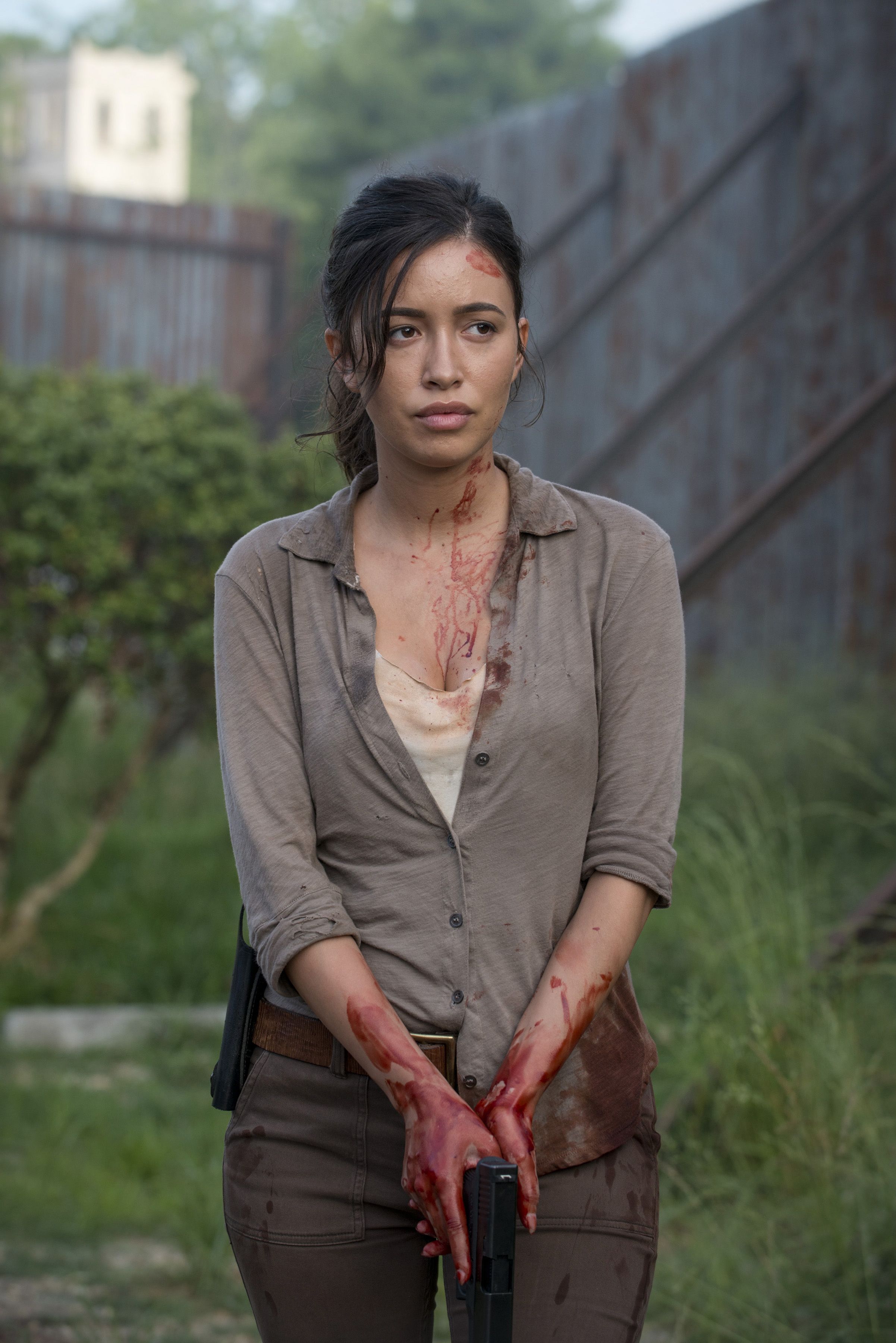 Now, Christian is taking on the role of a lifetime: Selena Quintanilla, la reina de tejano, a personage bordering on sacred in the Chicano and broader Latino communities, and well-known throughout the world.
Check out a few side-by-sides:
(I trust we don't need to tell you who's who...)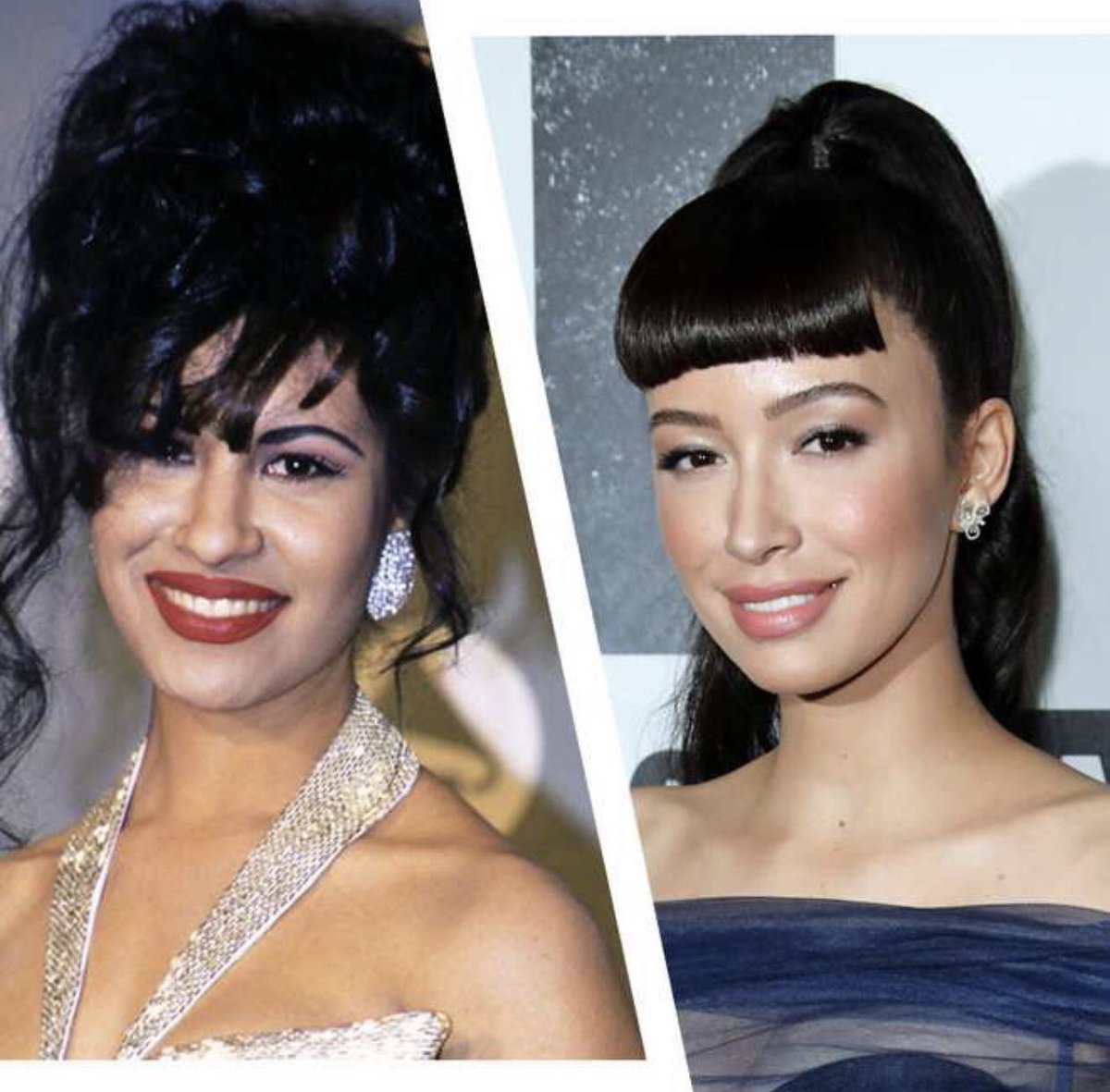 Well, she's definitely got the bangs down. The voice and moves? Check out the video below to judge for yourself...
Get your first look at Christian Serratos, who will play Selena Quintanilla in a coming of age story chronicling the iconic singer's rise.

Selena: The Series — Part 1 premieres in 2020. pic.twitter.com/3U7hBrxLHi

— Netflix US (@netflix) November 12, 2019
Selena fans are divided. Some are thrilled with the casting; others, not so much.
Anything for Selena's!. Yaaas Christian making the Mexican American community proud with honoring Selena♥️. Eeee im excited to see this, pero voy a llorar #Selena #ChristianSerratos https://t.co/X0OAErIyoc

— Kelly Lucero (@KellyCallieKell) November 12, 2019
This is why I have so much respect for Christian Serratos, taking the role of Selena Quintanilla it's big.❤

I got emotional over this! My Queen Tejano will be very proud of Christian ???? pic.twitter.com/PREr2U3IDM

— zαιɴαp????????~ #Caryl ????❤ (@ZaiMcReedus) November 12, 2019
I'm still bothered by the decision of casting Christian Serratos as Selena.
IMO, she has no resemblance to Selena, and doesn't have Selena's body type; unlike Selena's curves, Christian is practically skin. Think I'm just gonna stick with the movie????????‍♀️#SelenaTheSeries pic.twitter.com/8gaax7rZNT

— ʎpuıƆ ♎️???? (@hippielilicaxo) October 9, 2019
They lost me w/ Christian Serratos....nope! And Netflix is just trying to compete with Disney+, and using Selena's memory this way is a sacrilege ????

— Duchess313 (@duchess313) November 12, 2019
Christian Serratos as Selena for the Selena series on Netflix!? Already trash. Nope. JLo is the ONLY one worthy of such a role.

— G.???? (@Simplee_Star) August 22, 2019
But, as one Twitter user said, at least they cast someone of Mexican descent.
Everyone like "Christian Serratos got some big shoes to fill. JLo was perfect as Selena." I'm over here by myself like "At least they got someone of Mexican descent this time." ???? https://t.co/D5FLnjsmpL

— Ben (@hey_its_simba) November 12, 2019
Other fans have moved on and want to know: who is playing Chris?
Yall talking about how Christian Serratos has alot to live up playing #Selena but I wanna know whose going to be her fine-ass play husband Chris? ???? pic.twitter.com/1S39C3vksJ

— negro $wan (@elliwuzhere) November 12, 2019
One thing's for sure, the pressure is on.
Selena is one of my favorite movies, I don't know Christian Serratos but she better not fuck this up! https://t.co/0s60gs8Kbb

— جاي (@Jaee_TheGREAT) November 12, 2019