HISTORIC: Los Tigres Del Norte First To Record At Folsom Prison Since Johnny Cash
Legends honoring a legend.
In honor of At Folsom Prison's 50-year anniversary, Los Tigres del Norte become the first and only act allowed to perform and record since Cash himself.
Since Johnny Cash's legendary performance at Folsom Prison half a century ago, during which he recorded one of the most recognized and beloved live albums of all time, the simply titled At Folsom Prison, many musical artists have tried to do the same - and been denied.
Until now.
Of the many who petitioned to be allowed to honor the 50-year anniversary of Cash's performance with their own recording, Los Tigres del Norte were the chosen ones, the first and only act allowed to perform and record since Cash himself. Legends honoring a legend.
The result is a powerful concert film titled simply, like Cash's recording, Los Tigres del Norte At Folsom Prison.
You can watch as hermanos Jorge, Hernán, Eduardo, and Luis Hernández and primo Óscar Lara take the stage at Folsom in their blazers and botas while hundreds of inmates cheer, opening their set with a Spanish-language rendition of "Folsom Prison Blues" written by Cash's own nuera, Ana Cristina...
...before launching into classics like "La Puerta Negra," "Jaula de Oro," "Tres Veces Mojado," "De Paisano a Paisano," y "Mi Sangre Prisionera."
"Johnny Cash's music, like ours, is about those who struggle, the marginalized, and the voiceless," remarks Eduardo in the film.
"The stories they tell...es lo que está sufriendo el pueblo," says an inmate, explaining why their songs, many of them, like "La Jaula de Oro," about the immigrant experience, mean so much to so many Mexicans and Latinos.
De que me sirve el dinero
Si estoy como prisionero
Dentro de esta gran nación
Cuando me acuerdo hasta lloro
Aunque la jaula sea de oro
No deja de ser prisión
In the film, we witness as Los Tigres meet with inmates face-to-face, to hear their stories, many of them brutal, all of them heartbreaking.
"The messages in your songs are what gives us the strength to live every day," one inmate tells them. "They make us conscious of the fact that we're human beings too."
And their lyrics aren't just empty words, Los Tigres bear them out with actions, even bringing one of the inmates onstage to play with them.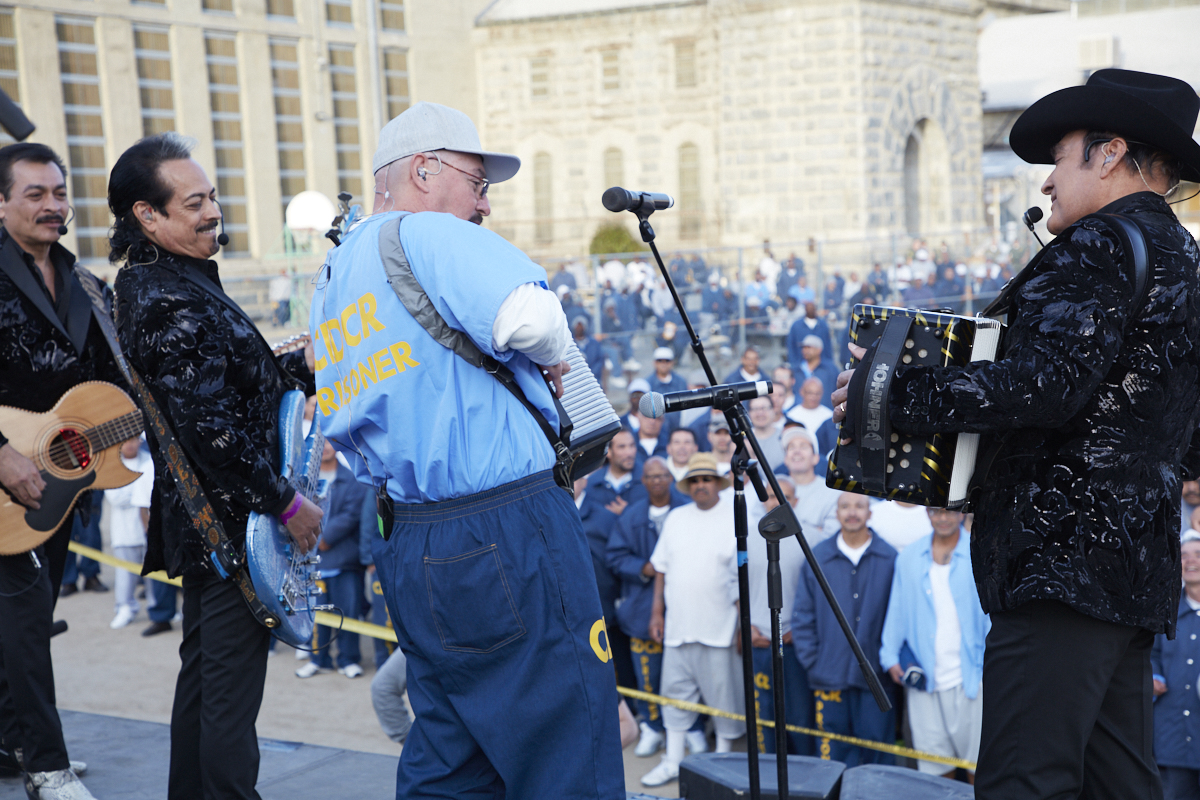 The film's final song, "América," seems to have been chosen not only because it is one of their most alegre, but also because of its message, reminding listeners that whatever your color, whether you are born in Mexico or the U.S., Brazil or Guatemala, we are all American.
Porque América es todo el continente
Y el que nace aquí, es Americano
El color podrá ser diferente
Más como hijos de Dios, somos hermanos
"Como Johnny Cash, vinimos aquí para traer luz a este lugar oscuro," says Jorge as the song, and the film ends.
"No matter how dark their crimes, there is always the chance for hope and redemption for all of God's beings. These people and their stories will forever be in our hearts and in our music."