Rest In Peace 6-year-old Stephen Romero, One Of Those Shot And Killed At Gilroy Garlic Festival
"My son had his whole life to live," said father Alberto Romero.
Stephen Romero turned 6 last month after graduating kindergarten. He was shot and killed when a gunman armed with an AK47-type assault rifle opened fire on the Gilroy Garlic Festival in Northern California. The gunman's most recent Instagram post included references to "mestizos" and Might Is Right, a book promoting white supremacy.
Six-year-old Stephen was attending the Gilroy Garlic Festival in Northern California with his mother and grandmother when the unthinkable happened.
According to witnesses, a man wearing tactical gear and armed with an assault rifle opened fire in the festival's dining area, shooting rapidly and indiscriminately into the crowd.
Footage from the Gilroy Garlic Festival shooting shows festival-goers rushing to find cover as shots are heard. At least 3 are dead and 15 are injured. [Warning: disturbing content] https://t.co/lV3Pq28TzM pic.twitter.com/cTnbjfH9gf

— Los Angeles Times (@latimes) July 29, 2019
Fortunately, police were on hand and put the suspect down within minutes, but not before he had killed 6-year-old Stephen, a 13-year-old girl, and a 20-year-old man, as well as wounding a dozen others, including Stephen's mother Barbara Aguirre, who remains in the hospital in a medically induced coma.
This little Angel - Stephen Romero - was shot and killed tonight at the Gilroy Garlic Festival. His grandmother shared these photos with me, while we cried together. She's now visiting his mother, her daughter in law, who was also shot and is being treated at another hospital. pic.twitter.com/vAJTUsOQ32

— Kate Larsen (@KateABC7) July 29, 2019
According to CNN, the suspect, who cut his way into the festival through a chain-link fence, has been identified as 19-year-old Santino William Legan.
Legan, originally from Gilroy, purchased his assault rifle legally in Nevada, where he had been living with relatives. His last Instagram post prior to the shooting read: "Read Might is Right by Ragnar Redbeard. Why overcrowd towns and pave more open space to make room for hordes of mestizos and Silicon Valley white tw**s?"
Might Is Right is a white supremacist text that calls Jesus Christ "the true Prince of Evil" and argues that "the natural order is a world at war in which the strong must vanquish the weak and white men must rule over those of color." Mestizos refers to people of mixed race, specifically Latinos.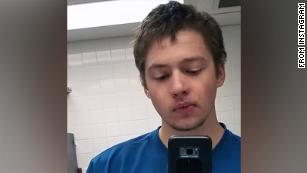 When Stephen's father, Alberto Romero, received a call from his wife, Barbara Aguirre, letting him know that she and their son had been shot, "I couldn't believe what was happening," he said.
"[I thought] that what she was saying was a lie, that maybe I was dreaming," recalls the 33-year-old electrician.
"They told me that he was in critical condition, that they were working on him," said Alberto. "Five minutes later, they told me he was dead."
Stephen had just turned six last month, after graduating from kindergarten.
Alberto Romero, of San Jose, speaks about the death of his son Stephen Romero, 6, while outside Santa Clara Valley Medical Center in San Jose, Calif. on July 29, 2019. Romero's son & wife were shot by an active shooter while attending the Gilroy Garlic Festival #gilroyshooting pic.twitter.com/pvzYHpI8Nc

— Jose Carlos Fajardo (@jcfphotog) July 29, 2019
"My son had his whole life to live...he was only six," said Stephen's father Alberto Romero. "There's nothing I really can do besides try to be with him until I can put him in his resting spot."