New App Helps "Conservatives" Find "Safe" Space To Wear Their MAGA-Hats
Do you wonder whether it's safe to wear your MAGA hat to the grocery store or local bar, fearing retaliation by liberal snowflakes? As the Washington Post reports: "There's an app for that."
Oklahoma developer Scott Wallace believes "conservatives are under physical attack," so he created 63red Safe, "an app to keep conservatives safe as they eat and shop."
63red Safe's Google Play store description reads:
"Reviews of local restaurant and businesses from a conservative perspective, helping [ensure] you're safe when you shop and eat!"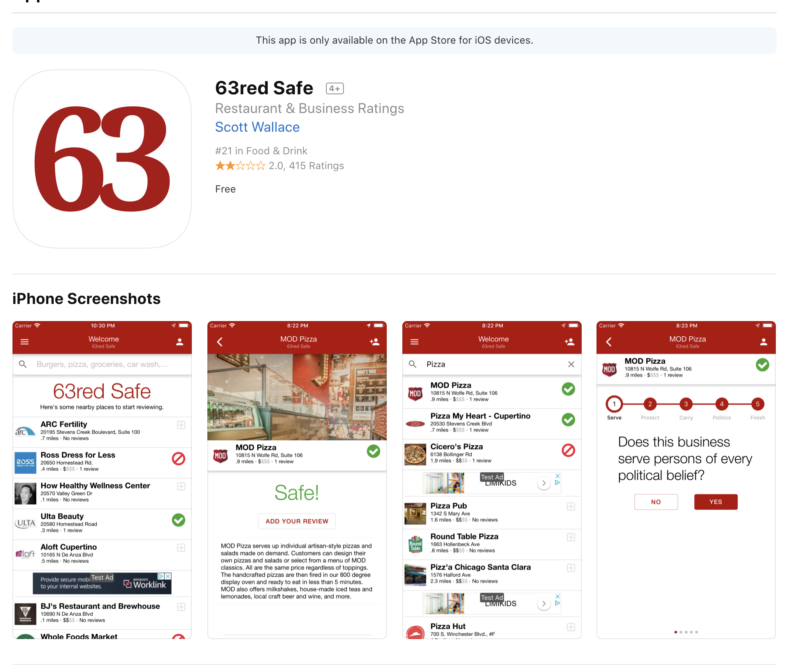 Wallace says he wants to "get these politics out of restaurants and businesses," not seeming to understand that by sporting a bright red MAGA hat you are proclaiming your politics to the world, and bringing them with you wherever you go.
Shortly after 63red Safe went live, their servers crashed due to the high traffic generated by all the publicity surrounding the app's launch. But Wallace believes that "socialist embeds" in the "low-level functioners" of Facebook, Google, Apple, Microsoft are to blame.
"Apparently, 'Doing business while #conservative' is a real thing," he wrote in a now-deleted tweet.
But it wasn't just Trump-supporters downloading the app. According to Vice, about half the app's reviews are from users who want to steer clear of places where "haters feel welcome."
"I read about this so downloaded it because I thought it would be an easy enough way to avoid pro-Trump stores," wrote one reviewer. Another added, "Doing the public a great service by publicizing the places where haters feel welcome. Thank you!"
Hopefully, the app is up and running again soon, so conservatives can finally venture out into the world wearing all their Trump 2020 gear without fear.