"Treasure" Discovered Buried Beneath Chichén Itzá May Rewrite History
Archaeologists discover secret tunnel to "treasure trove" deep beneath Chichén Itzá
Artifacts in the cave may reveal clues about the rise and fall of the ancient Maya city.
Nat Geo explorer Guillermo de Anda and a team from the Great Maya Aquifer Project discovered a sanctuary untouched for over 1,000 years, Newsweek reports.
The entrance was sealed with stones and archaeologists had to fend off a venomous snake, which locals claimed was guarding the entrance.
Past the stones and the snake lay a cave of wonders.
De Anda told National Geographic:
"I couldn't speak, I started to cry. I've analyzed human remains in [Chichen Itza's] Sacred Cenote, but nothing compares to the sensation I had entering, alone, for the first time in that cave. You almost feel the presence of the Maya who deposited these things in there."
The cave system, called Balamkú, which means "Cave of the Jaguar God," is located deep underground, 24 meters beneath the surface and filled with over 150 ritual artifacts, including incense burners, food, seeds, jade, conch shells, and bones.
An incense burner featuring the face of the rain god Tlaloc
According to De Anda, these artifacts are treasures, more valuable than gold, because of what they can tell us about the Maya civilization and Chichén Itzá itself.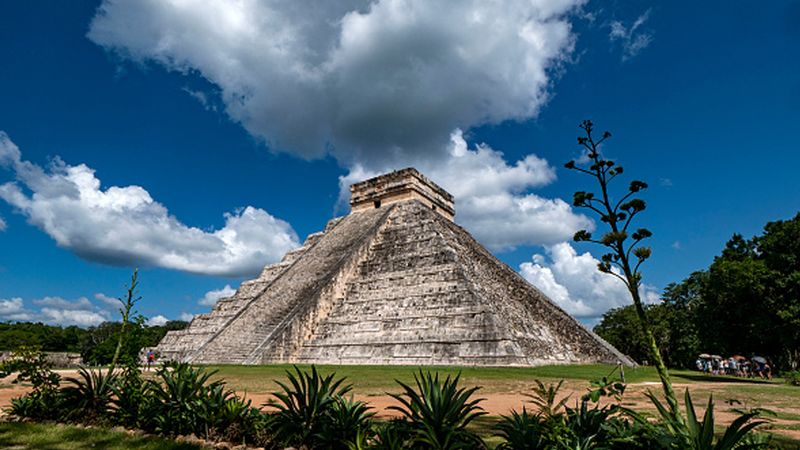 Pyramid at Chichén Itzá
Chichén Itzá, located on Mexico's Yucatán Peninsula, was one of the largest and most diverse Maya cities before it was abruptly abandoned after 1440 AD. De Anda believes this find will "rewrite history," helping to shed light on the "dark side" of Chichén Itzá.
De Anda says:
"Balamku can tell us not only the moment of collapse of Chichen Itza, it can also probably tell us the moment of its beginning."